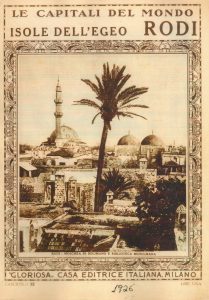 Book:
Fascism's Mediterranean Empire: Identity and Rule in the Greek Islands, 1912-47
(expected completion in 2017)
Little discussed in studies of European empire, Fascist rule of the Dodecanese islands in the Southeast Aegean illustrates how discourses of Italian empire revived regional, Mediterranean identities. Drawing on a rich array of documents – from travel literature and architecture to photography, documentary film and diplomatic sources –the book investigates Italy's state-building and citizenship projects to show how these produced a discourse of 'Mediterranean-nism'. While most studies of Italian empire dwell on resettlement projects in east Africa, this book places the Mediterranean at the center of this history to reveal Rhodes and other thirteen Dodecanese islands as pivots for the circulation of mobile labor between Greece, the Levant and Africa, and laboratories for the formulation of Italian colonial identities in the Mediterranean.